Engaging Climate Education & Action
After the initial deployment period of the game, I was brought in to take the resulting data (voicemails) and develop a research strategy. What resulted was an exploration of the player psychology and knowledge that lead to insights on how to engage people through play, better communicate complex topics, and transform a qualitative dataset into a quantitative one.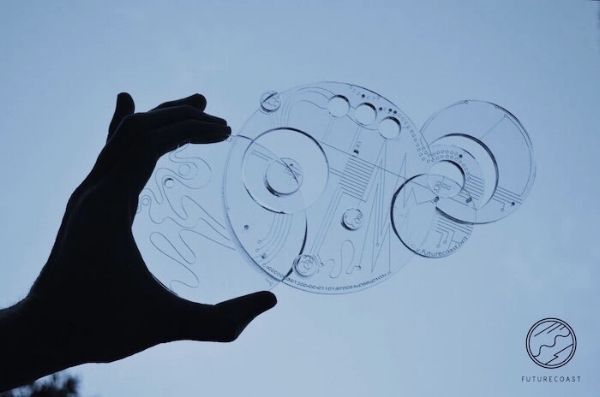 A Playful Way To Engage
The above image is of a chronofact, a real-life object that enhanced authenticity of gameplay in out ficticious future.
One of the reports I produced evaluated the effectiveness of using games to engage people and communicate complex issues such as climate change. Click here to read that report.
Making the Qualitative, Quantitative
As part of this research project I created 3 code types based on sentiment, theme, and climate response. I then coded each voicemail in my sample and completed QA/QC with independent coder. With the resulting dataset I performed statistical analyses to draw conclusions about the voicemails and players.
Above is an alluvial diagram, one data visualization I created, showing the relationships between code types, codes and communities. All codes considered in our analyses are found down the center of the diagram. The thickness of each band indicated relative code prevalence within its code category. The code category each code belongs to is indicated on the left of the diagram, and the statistical community each code fell into is indicated to the right. Read the paper to learn more about the analyses I performed to attain these results.
Mapping Emotions
In additiona to understanding climate impacts and conducting qauntitaive analysis, I also dove into the softer sciences by looking at and integrating psychology and sentiment into our study.
Knowledge Sharing Presentations
I shared this work on engagement and measuring public perceptions and understanding of climate change several conferences and forums including the 2017 Waterfront Conference, 2016 PoLar Partnership Annual Meeting, and the 2016 American Geophysical Union Annual Meeting. Click here to see sample presentation slides.